T-shirts are one of the best gifts any company or organization can give to customers, fans, employees, team members, or any other target audience. It is one of the gifts that is suitable for any age group, event, and many different purposes. It is suitable for any time of year. "Different Advertising" is considered one of the best shirt printing companies in Riyadh, with a fully equipped t shirt printing store. We realize the importance of this promotional method and decided to allocate a dedicated team in our agency, staffed by professionals that specialize in designing and printing t shirts and other clothing material.
It is worth mentioning that we have not only focused on t shirt printing, at our apparel printing department in Riyadh, we decided to expand and include more items and printing options to serve different customers and meet different tastes. Our products include: cap printing, custom business shirts, custom clothing printing, custom made shirts, personalised t shirts, personalized shirt printing, promotional t shirts, promotional clothing, silk screen printing, t shirt design, t shirt logo printing, and various other printing options and material that you'll surely find what suits and fits your requirements.
---
The Best T-shirt Printing Options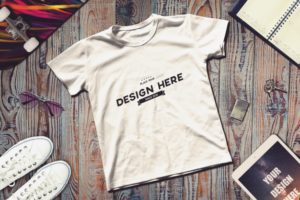 You might worry about the promotional material that carries your company logo or organization name. Of course you can't afford distributing low quality t-shirts that may disrupt your brand image and cause to disappoint your customers. At "Different Advertising" we offer you the best quality of t shirt printing, which will leave a positive impression on everyone who gets it. With us, you will have the peace of mind that you have the highest quality t shirt desired of the best possible printing material and with colors that are very stable and not affected by repeated washing or ironing. With us there is no need to worry or be concerned.
If you want to bring your own t-shirts with you, and choose the design that you like from the many designs we offer, we can then certainly print on them. Alternatively, many of our clients prefer to leave the whole process to us, starting from choosing the best quality t-shirts, then producing the t shirt design, picture or logo that they prefer, print it on the selected t shirts, and then having them delivered; which is definitely more convenient, saving you lots of efforts and time.
---
Print Your Logo on Everything You Love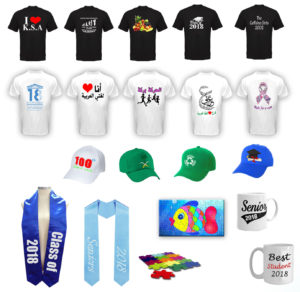 Due to our believe in the importance of variety and innovation to attract more customers from different interests and sectors, we decided to expand the types of raw materials we deal with, so we search for the most desirable items and clothes that people would prefer to print on for marketing and advertising purposes.
Print on Flags: we can print a logo, brand name, a phrase, or an image that you desire on different types of flags that you can use for various events.

Printing on Caps and Hats: We can have your favorite design printed on caps and hats of your choice, which is one of the popular items favorable by many.

Printing on Pullovers: We can print on various material such as cotton, wool, and other types of pullovers to produce a piece of elegance and magnificence that you would be proud of when presented to the people you gift it to.

Silk Printing: It is considered one of our finest printing products that we offer.

Printed Scarves: which is one of the most common types of printing especially in the educational and sports sector, where we print the logo or the name of the institution on the scarf to be worn by students or team members.

Print on Pillows: a new type of gifts that has become a great choice in recent years.

Canvas and Silkscreen Printing: It is one of the forms of handmade printing done on fabrics that's characterized by its splendor and softness.
T-shirt Printing Prices
Perhaps the most distinguishing feature of "Different Advertising" is our uncompetitive prices, as well as the quality and accuracy of the work we do and the materials we use, so you will get more than the price you will pay. As such, we can confidently classify ourselves as one of the most competitive companies in terms of prices. We offer the best prices for t shirt printing in Riyadh, especially through our wide range of options that will definitely suit your need. If you are looking for precision, quality, innovative designs and variety of raw materials, we are definitely your best choice!
If you already have specific ideas about the design and material that you want to be printed on, or still in the research and thinking phase, you will definitely find everything that satisfies your taste and customers with us. Contact us today for more details.