Many private companies, governmental and semi-governmental bodies and institutions resort to the use of commemorative plaques and medals to present them on various occasions and celebrations as symbolic expressions of achievement and appreciation. These commemorative plaques and medals can be considered as the best souvenirs that bear the memory and spirit of the event or occasion within them, and help to strengthen self-confidence and encourage people to continue success and excellence. Receiving this kind of gift makes the person remember the history and details of that happy occasion in which he received this plaque or medal, which keeps the happy memories in the conscience.
We at "Different Advertising" always take into account all tastes, needs and different requirements. Therefore, we offer a large selection of custom plaques, custom trophies, and custom medals to suit different occasions and using different materials that you can choose from that fit your requirements and your target audience. Not only that, but we provide many solutions and ideas for plaques and medals such as: medal design, crystal glass awards, crystal glass trophies, engraved glass awards, printing on medals, acrylic trophy, acrylic plaque printing, engraved trophy plates, wooden plaques, graduation awards, sports trophies, sports medals, medal engraving, and many more.
Design of Medals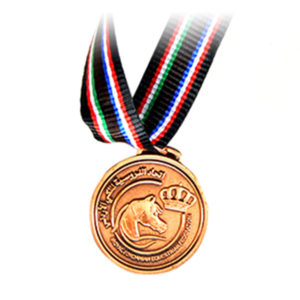 We not only offer ready-made or pre-designed medals, but we also offer you the opportunity to design custom medals that suit your taste. Whatever you have in mind, we will be able to formulate and shape it through an innovative design that will suit your target audience through a wide variety of raw materials and custom medal engraving. Bold, innovative, carefully crafted, and meticulously designed ideas that attract everyone's attention and literally and professionally engrave your brand or organization's name. Through our team of distinguished designers who have the experience and skill to enable them to implement all the design ideas for your custom medals. Weather you are looking for award medals, trophy medals, or any other type of engraved medals, we can do it all.
---
Design of Trophy Plaques and Awards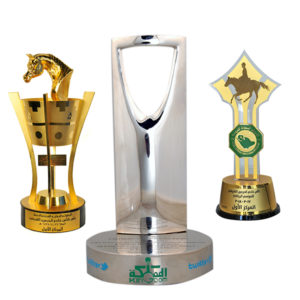 As we are distinguished in the design of medals, we also innovate in the design of commemorative trophy plates, trophy plaques and engraved awards, which can be custom designed in different sizes and bearing the name and logo of the institution or the occasion, and this through a large selection of innovative designs, we chose to implement the best and finest materials that suits different tastes , For example you will find our:
Wood Plaques: We carefully select the finest types of wood to carry out the design chosen by the customer, so that our custom made wooden plaques become one of the most valuable and best souvenirs ever made.

Copper Plaques: It is one of the most preferred material for many customers because of the accuracy of its manufacture and its magnificence.

Acrylic Plaques: which we implement according to requested measurement, size and design that suits the customer and addresses their target audience.

Glass Plaques: which is one of the most popular types of plaques because of the ease of use of glass in the formation and engraving and printing.

Crystal Plaques: which is one of the best and most popular plaques due to crystal material, which we select the finest and most pure types for accurate design and manufacturing.
Design of Trophies, Trophy Cups, and Trophy Plates
We can engrave and print on any trophy cup material to carry out the most difficult and complex designs, either through laser trophy engraving or regular printing on cups and trophies. All you have to do is tell us your company or organization name, and the purpose of the trophy or award, and we will take care of the rest to create your custom made trophy. Please note that we take care of all details such as final touches and packaging of the product before it is received to ensure that you are satisfied with the product you will receive from us.
Business Trophy Items and Corporate Trophies
In addition to our custom trophies, we are also distinguished in custom business trophy items, and corporate trophies. We provide a large selection of trophy shapes that are uniquely designed by our professional team which you can select from as per your business trophy requirements to create the corporate trophies you desire. In addition to our cost effectiveness, as we offer one of the most competitive prices in the Riyadh, you will be happy with the value you get from our highest quality trophies that are custom produced for your business and corporate needs.
Printing on Glass and Crystal
Print whatever you want on glass or crystal, which is one of the most luxurious and established types of souvenirs you can give to your audience and your target customers. Whether you want to print your logo or a particular design, or even a picture on a glass plaque or glass trophy, we will do this for you through high quality of glass and crystal and at great prices that will astonish you. Printing on crystal glass awards and crystal glass trophies are one of highly demanded items which we are proud to produce with highest possible quality for our respected clients.
Whether you are a company, a sports or educational institution or even a government body, and you would like to design and print different medals and plaques, or personalized trophies and awards for your different occasions and celebrations, you will find what you need with us at "Different Advertising". Whether you have ready ideas that you want implemented, or you are still in the process of ideation, you will surely find everything that satisfies your taste and your customers here with us. Contact us today to get started.